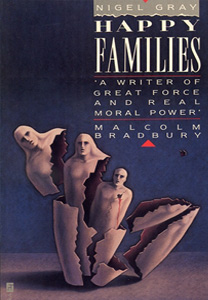 Overseas buyers: contact me
Nominated for the Booker Prize
Macmillan, UK
Futura, UK
Happy Families is a powerful and disturbing novel about cycles of deprivation. Children who have not been loved will have no love to give; nor can love thrive in poverty and isolation. At the age of nineteen, Paul is attempting to prove his mother wrong. Sheila, the woman he loves, has few resources to accept what he can give. And Paul is determined to protect and cherish their child, to break out of the cycle. The Listener said of Nigel Gray's Life Sentence: 'Gray's world is that of the young unemployed in a declining capitalist society who, finding themselves rejected, unwanted, have somehow to express their sense of both psychic and actual loss. His outrage at this, his refusal to either condemn or condone the often violent action that results is wholly admirable and sensitively articulated.' All this is true of Happy Families and it is, besides, told with courage and passionate conviction. Moving and painful to read, it is a novel of our times.
An important novel. Gray's vision is as bleak as Hardy's, the life of his hero as blighted as Jude's. This brutal novel is also a work of tenderness. Stylistically more ambitious than Life Sentence, Happy Families retains that same integrity. And integrity is the right word. It flies like a battered standard over the ruination depicted, recording a loss, and offering a warning to the future. New Statesman.
There is a graphic urgency about the descriptions: the accounts of people at the end of their tether are quite devastating. Mr Gray is a writer of exceptional power, and his evocation of the blood-guts-and-spunk side of emotional trauma is practically Lawrentian — in fact several steps further than Lawrence got — particularly as it is contrasted by odd idyllic interludes. An angry, impressive novel. Encounter.
What stuns one about this book is its passionate truthfulness. He uses small cameos of biting clarity, interweaving the past and present into an even genetic cycle, and although a dark book that has clearly pursued its writer like it pursues its reader, the search for light is there. Mr Gray has a rare talent. The Sunday Tribune
It is strangely compelling – a fly on the wall view of human misery seen with tenderness and compassion. British Book News.
The novel is written in a keen-edged, cutting style which lays bare the protagonist's suffering in a clinical and utterly convincing way. Its literary style is a major triumph. Nigel Gray has found a mature and masterly voice. Evening Telegraph
Nigel Gray is an authentic and rare writer. That is to say, what he has lived and what he has seen pursues him until he has told it; and what he has to tell, although familiar to millions, is ignored in most books. Hence his heroism. This novel ought to be read widely, and for a long time. John Berger.
Nigel Gray writes with the compassion of a saint and the practicality of a plumber. He is not one of the pseudo-sages who mystify suffering and then shake their heads over it in bewildered despair. He made this story so true to life so that we could see how life could be different. Edward Bond.
Nigel Gray is a writer of great force and real moral power. Malcolm Bradbury.
Happy Families is not a conventional novel. The writer's attitudes, beliefs, criteria are not the usual ones, even among writers who attempt to cover the same ground. The writing is powerful but pure, its strength seeming to come from experience and observation and not mediated through the study and assimilation of other fiction. Nigel Gray can write. The Irish Press.