Latest publications
Laugh, You Buggers, Laugh – Selected poems (1967-179) and the life and times that inspired them.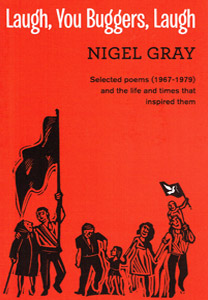 Signed first edition
(If you would like a personal dedication please give details in the 'Contact Me' page.)
Customers outside Australia can order a paperback edition or eBook through online suppliers.
Fontaine Press (paperback original and eBook)
Laugh, You Buggers, Laugh, is no ordinary collection of poems. Nigel Gray led an extraordinary life in extraordinary times. He was a political activist and performance poet in the UK during the days of rage and hope, flower power and free love, radical social change and political upheaval that typified the 1960s and 70s. He travelled on political forays to Southeast Asia, Africa, Ireland, and mainland Europe. This is a selection of poems from that time, set in a context that explains the situations and experiences that inspired them.
Rarely have I encountered a book that takes the reader so candidly into the life of its author but at the same time evokes in detail the wider grand sweep of history. Nigel Gray calls these verses "odds and sods", but actually they're strong, vigorous pieces – examples of the art of activist performance-poetry, sometimes poignantly moving, and always propelled by justified outrage. Many of them might once have been a call-to-arms, but these days they are an optimistic reassurance that conscience still exists. To read these poems in the context of the life-experience that produced them is a real treat, for few writers are so candid and sharing. This is a treasure! Van Ikin, Professor of Literature, University of Western Australia.
Nigel Gray writes poetry as it ought to be written. I think it's the poetry millions of silent people would write if they could, poems that are tense with passion and reason. Like others who've shared people's suffering at its bleakest – and you will find that in his poems – he rejoices in wit and laughter. He knows the worst and loves the best. He writes sane poems for a mad world. They give me courage and hope and remind me again of the happiness it is to be human. Edward Bond, poet and playwright.