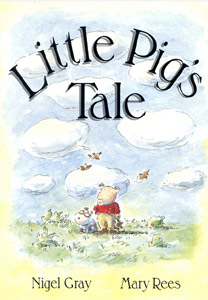 Shortlisted for the WA Premier's Award, Australia
Child Education, Best Books of the Year, UK
Walker Books, Australia
Random House, Australia
Walker Books, UK
Macmillan, USA
Bokforlaget Carlsen, Sweden
Forlag Carlsen, Norway
Uitgeverij Clavis, Nederlands
Kustannus Makela Oy, Finland
Wolfgang Mann Verlag, Germany
Tabu Verlag, Germany
Anthologised in the UK: Walker books
Video: Warner Bros, Germany
Video: Warner Bros, Holland & Belgium.
Books for Children Bookclub, UK
Books for Students Bookclub, UK
Little Pig wanted to give his mum something special for her birthday, like a spaceship, or an orchard full of fruit and flowers, or a silk gown with glittering jewels. But these things were impossible, and it was only at the last moment that he thought of something surprising and simple, something his mother could not help but love.
The best picture book that I've seen for ages. Bob Graham