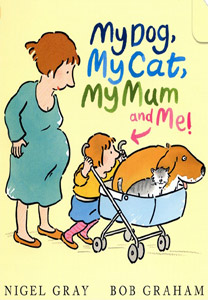 A Notable Children's Book, Children's Book Council of Australia
Walker Books, Australia
Walker Books, UK
Candlewick Press, USA
E*Public Co., Ltd./Panmun, (CD) Korea

This is a new edition of the lift–the-flap book first published in Australia by Lothian and in the UK by Happy Cat Books under the title, Full House, and by Sanah Publishing in Korea.

It is a companion to Come on everybody, time to play!
First the dog gets mysteriously fat, then the cat, and suddenly there seem to be puppies and kittens all over the house! But when Mum gets fat, too, this little girl starts to put two and two together.
Look for the delightful surprises under the flaps in this very special counting book.
I loved this book. The story is simple yet amusing and the unexpected ending is sure to bring a smile. Lollipops
A gentle little story. An enjoyable sharing experience. Magpies
A charming romp. Children's Book Council
Sure to become a favourite. Bookphile
A delightful picture book. Scan
Young children will delight in this simple cumulative story. Highly recommended. Primary Focus