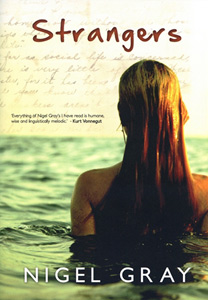 Tauro, Australia
ebook: Tauro , Australia
To purchase this book click here.
Stone's Publishing, Australia
Nigel Gray has breathed new life into an almost extinct literary form, the epistolatory novel. The time is 1988/1989. Adrian is trapped in Thatcher's Britain. Harri has flown to a new life in Australia. The contrast between the old world and the new is sharply drawn. The protagonists come alive in a very contemporary way, warts, muddle, desires, anxieties, jokes, differences and all. Full of contradictions, they show at times great insight and intelligence as well as revealing an immense capacity for self-delusion. Gradually the layers of their pasts are peeled away to reveal their secrets. These letters, so full of sharp wit, stunning imagery, political perception, and insight into the human condition are love letters, entertainments, poison darts, literary jousts, and cries for help and understanding all at the same time. Nigel Gray is an author acclaimed for his honesty and his compassion as well as for the clarity and elegance of his prose.
Highly praised by the likes of Vonnegut, Bradbury and Berger, Gray's fiction is tough and uncompromising. Strangers is an epistolary novel of intimacy and disconnection. No one writes letters as lyrically honest or self-lacerating as these, of course, but the effect is moving and provocative. Gray's short stories are equally riveting. 
Murray Waldren – The Weekend Australian
I fell in love with Nigel Gray's epistolary novel, Strangers. It is a deceptively simple form, and Gray elegantly handles the difficulties that arise. The result is a wonderful novel. Of Happy Families, another of Gray's works, John Berger has written: Nigel Gray is an authentic and rare writer. That is to say, what he has lived and what he has seen pursues him until he has told it; and what he has to tell, although familiar to millions, is ignored in most books. Hence his heroism. High praise indeed, praise I can only echo for both Strangers, and Skeleton in the Cupboard. There is a compassionate knowledge about life and living in these works, a wisdom of searing honesty which is eloquently literary but, at the same time, down-to-earth and approachable. Donna Lee Brien – Imago
Mercifully Nigel Gray is not a fashionable writer. He is more important, a writer of integrity who knows how to tell a story. He is not interested in facades but in what goes on behind them, not in the rich and famous but in ordinary people, the ways in which they live, enjoy themselves, survive and refuse to let the power of others or their own powerlessness stupefy them or take away their dignity. Nor does he pay tribute to theories about writing. He remains his own man, averting his gaze from the beaten track, hating injustice and brutality and celebrating a humanity often achieved against the odds. 
Gray feels and means everything he writes and is not afraid to face facts, as the sharp accuracy, understatement and wit of his writing makes clear. But because he is able to suggest the ways in which individual lives fit into the tragi-comedy of our times his stories fill a wide, sometimes epic canvas even as they celebrate the individual's power to be him/herself. In an age in which so many of us live by slogans, shouting identical syllables in unison, he celebrates the eccentric and unusual. Sister Veronica Brady
Strangers is a comic novel written in epistolary form. A curmudgeonly and complacent Englishman corresponds with a feisty Australian woman, and the humour is generated from incongruities, missed communication, and underlying but paradoxical affinity. There is an element of David Lodge in the writing, and the book is very funny.
 Nigel Gray's fiction has, I think been undervalued by publishers. His very productiveness and fluency is misleading. In fact he is a thoroughly professional and painstaking writer whose works across the board show an amazing range, stylistically and in terms of subtle human understanding. I think posterity will be kinder to Nigel Gray than the current publishing circuit, which too often clutches at short-term profit and modish fashion. Nigel Gray is a serious and enduring writer, who deserves celebrity status for his substantial and fine output. Professor R S White – University of Western Australia
The excellence is there for all to admire. Some of the work is poised and breathtakingly moving and the depth of his experience reverberates through his writing. Nigel Gray comes across in his raw honest writing as hugely likeable with a massive capacity for love. The West Australian
Strangers has everything. It's gutsy, varied, direct and marvellously well written – full of insights and quite beautiful at times. It deserves a good readership. Peter Cushing – Liverpool University