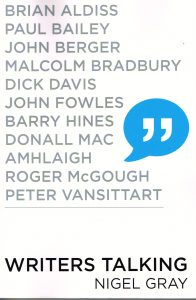 New revised edition
Fontaine Press, Australia
Why do authors write? What fuels their passion to create? And how do background, childhood, and early experiences shape the way they see the world?
Writers Talking is an absorbing, compelling, and important social and literary document about ten British writers of note.
Reading this book is like spending time in the company of these authors, and each section is like being included in an intimate conversation with a friend.  We discover the compulsion and preoccupation behind their work, the methods they use, and the books that have influenced them.
With an uncommon and sensitive interviewing technique, Nigel Gray has revealed the working lives of these novelists and poets with a warm intimacy and unpretentious honesty that is engaging, informative, and illuminating.
Writers Talking is an indispensable read for anyone interested in books, writers, or writing.